Columbia Shuttle Flight
The Crew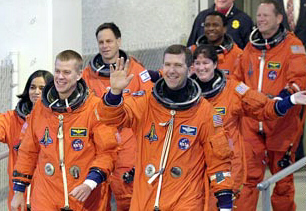 Commander Rick Husband is at center.
Behind him in the front row from left are
Kalpana Chawla and William McCool;
second row from left are Israeli astronaut Ilan Ramon and Laurel Clark;
and third row from left are Michael Anderson and David Brown.
The senior pastor of Grace Community Church in Houston, Steve Riggle, described shuttle commander Rick Husband and payload commander Mike Anderson on Sunday as born-again believers who "fervently lived for God." Riggle also shared that Husband's last wish was that his pastor tell people about Jesus because "He means everything to me."
Riggle told members of his church that Husband wrote those instructions on the sheet that all astronauts fill out before going into space.
Executive pastor Garrett Booth says his church will remember more than just their sense of duty and patriotism. "Both men were men of integrity — great fathers and family men," Booth says. "And they both had a deep faith in Jesus Christ that went beyond their successes and their work. It was really the foundation for their lives — and they will be deeply missed."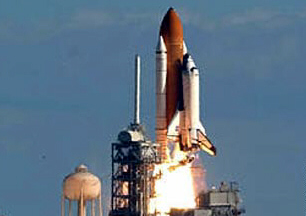 Lift-off, Thursday morning, January 16, 2003
Disaster
Saturday morning, February 1st, 2003
8:00 o'clock
Sequence of Events, Central Standard Time
7:15 a.m. Columbia fires braking rockets.

7:53 a.m. Ground controllers lose hydraulic temperature data. Shuttle crew is not alerted.

7:56 a.m. Sensors show rise in temperature, pressure on shuttle's left-side landing gear.

7:58 a.m. Data is lost from three temperature sensors in shuttle's left wing.

7:59 a.m. Data is lost from left-side tire temperature, pressure sensors. Crew is alerted.

Approximately 8:00 a.m. All vehicle data is lost. Shuttle is 207,135 feet up, traveling about Mach 18.3 Noise, lights in sky reported over Texas, Louisiana.

8:16 a.m. NASA contacts President Bush, Homeland Security Director Tom Ridge.
Radar image in orange and red, showing the path of the vapors and particles from the break-up of the Columbia Space Shuttle, southeast of Tyler, Texas to just below Alexandria, Louisiana.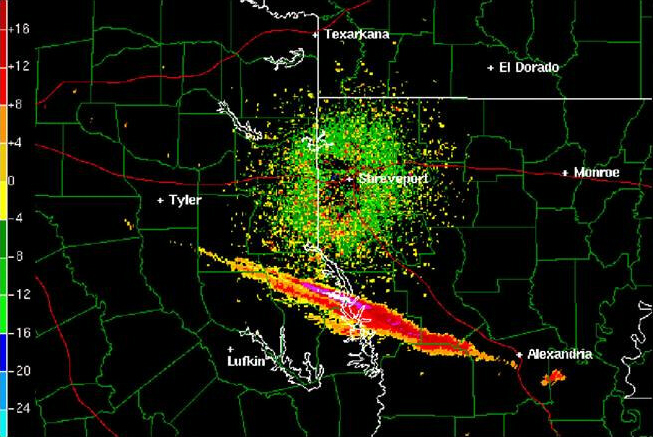 A debris trail spread across Texas and Louisiana with 13 confirmed pieces of the wreckage being found in Louisiana (as of February 2, 2003) -- as far north as Shreveport and as far east as Pineville, just northeast of Alexandria.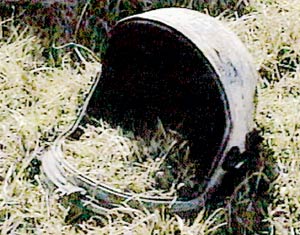 This helmet was found roughly fifty miles to the west of us.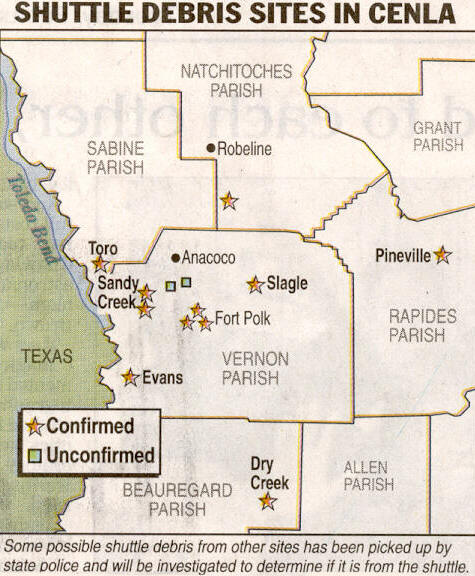 This graphic appeared in our local newspaper, The Alexandria Daily Town Talk, on February 4, 2003. We live roughly halfway on an imaginary line drawn between Slagle and Pineville, within Rapides Parish, several miles east of Vernon Parish.
Where was God when these seven heroic people were blown apart? What does the Bible tell us about the hand of God in history? Do these disasters simply happen, and God has nothing to do with them? Is he limited in the exercise of his power? Is history ultimately meaningless with no connection between how we live and what happens to us? Do we serve an impotent God?
Many people believe that God, for one reason or another, either does not or cannot intervene in real time and space, or that his power is off-set by the decisions of men and devils. The Prophet Amos asked: "When disaster comes to a city, has not the LORD caused it?" (Amos 3:6.)
In the ancient world of Persia, the followers of Zoroaster were profoundly dualistic. Zoroaster "apprehended Ahura Mazda as God, the one eternal, uncreated Being, wholly good, wise, and beneficent; but coexisting with him he saw another Being, the Evil Spirit, Angra Mainyu (Pahlavi Ahrimanc), who was wholly evil, ignorant, and malign, likewise uncreated, but doomed in the end to perish." [Freedman, David Noel, ed., The Anchor Bible Dictionary, (New York: Doubleday), 1992.] (Sounds a bit like Obi-Wan Kenobi's instructions to Luke Skywalker about the Force with its dark and light sides.)
God rebuts this Zoroastrian dualism to the Persian Emperor Cyrus in Isaiah 45. Note especially verses 6 and 7: "I am the LORD, and there is no other. I form the light and create darkness, I bring prosperity and create disaster; I, the LORD, do all these things." All things that happen are the unfolding of God's divine purpose, both weal and woe.
Without addressing all of the many questions about the relationship of God's sovereignty to such things as humans as free moral agents, natural phenomena, or the real power of Satan, who undoubtedly has a hand in human tragedy, we have to affirm that the terrible event of the Columbia Shuttle disaster did not happen outside of the sphere of God's sovereignty.
Yet having affirmed that, we must immediately affirm the enigma of history: "Then I saw all that God has done. No one can comprehend what goes on under the sun. Despite all his efforts to search it out, man cannot discover its meaning. Even if a wise man claims he knows, he cannot really comprehend it." (Ecclesiastes 8:17.)
We know that God is working in history, but figuring out how that happens or what are his penultimate purposes is beyond our ability. Ecclesiastes keeps us from glib commentaries on these disasters, especially when they are done with an attitude of self-righteousness.
A Reuters' headline on the day of the disaster read: "Iraqis Call Shuttle Disaster God's Vengeance." Part of this reaction was because "Israeli air force Colonel Ilan Ramon was among the dead when the shuttle broke up over the southwestern United States 16 minutes before its scheduled landing. The 48-year-old Israeli astronaut was a fighter pilot in the Israeli air force. He was the youngest pilot in a team that bombed Iraq's nuclear reactor in 1981."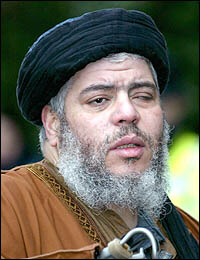 Islamist cleric Abu Hamza 'called the Columbia crew "thugs of space" who deserved to die. He denounced the team — made up of Americans, an Israeli and an Indian-born Hindu — as a "trinity of evil" punished by Allah. The 45-year-old cleric said they were "criminals" bent on boosting military satellite technology so America could dominate the world. He claimed it was a sign from God that debris rained down on a Texas town named Palestine.'
However, the Lord Jesus warns us against pointing fingers at others when we see these kinds of tragedies:
'Now there were some present at that time who told Jesus about the Galileans whose blood Pilate had mixed with their sacrifices. Jesus answered, "Do you think that these Galileans were worse sinners than all the other Galileans because they suffered this way? I tell you, no! But unless you repent, you too will all perish. Or those eighteen who died when the tower in Siloam fell on them — do you think they were more guilty than all the others living in Jerusalem? I tell you, no! But unless you repent, you too will all perish."' (Luke 13:1-5.)
By Jesus' response to those who informed him of these deaths, it is obvious that they had raised the issue of God's judgment. These folk thought that disasters, whether natural or caused by humans, are simply the hand of God punishing people for their sins.
One does not even have to believe in God in order to look at troubles that way. The Pagan folk on the shores of Malta, seeing Paul having been bitten by a viper said, "This man must be a murderer; for though he escaped from the sea, Justice has not allowed him to live." (Acts 28:4.)
But Jesus' words about Pilate's state sponsored terrorism and the "natural" disaster of the collapse of the tower in Siloam cut the ground out from under us when we are tempted self-righteously to point fingers at others, because he tells us that all these terrible things should remind us of the future judgment of God and be a signpost to be ready for it. There is coming a time when fire will fall from heaven, not on parts of two states but all over this world.
The Preacher in James Weldon Johnson's God's Trombones asks: "Sinner, oh, sinner, Where will you stand, in that great day when God's a-going to rain down fire?"
As with September 11, 2001, February 1, 2003 is not a time for finger pointing; it is a time for kneeling before a sovereign God, especially as America is poised on the brink of war with Iraq. This is a time for the people of both countries to seek the face of God in repentance. The Columbia's destruction reminds us that technology can often fail at the worst possible time. The Psalmist wrote: "Some trust in chariots and some in horses, but we trust in the name of the LORD our God." (Psalm 20:7.)
Our military superiority can fail. Our sovereign God never has. Our trust must be in him, and we must turn from our sins to him. Now is not a time for self-righteous pride; it is a time for self-examination, for many Americans may fare no better on the Day of Judgment than many Iraqis and even Saddam Hussein himself.
As a signpost of that Dreadful Day, the Columbia disaster warns me that I am "Standing in the need of prayer."
"Not my brother, not my sister, But it's me, O Lord
Standing in the need of prayer."
"Not my neighbor, not a stranger, But it's me, O Lord
Standing in the need of prayer."
This fire from the sky is a divine summons to bring each of us in the brokenness of repentance to the foot of the cross. And there is no more secure place in the entire world than that. It is to those who turn from their sins and self-righteousness, that Jesus speaks words of security and comfort: "Do not be afraid of those who kill the body but cannot kill the soul. Rather, be afraid of the One who can destroy both soul and body in hell. Are not two sparrows sold for a penny? Yet not one of them will fall to the ground apart from the will of your Father. And even the very hairs of your head are all numbered. So don't be afraid; you are worth more than many sparrows." (Matthew 10:28-31.)
The Bible instructs us that for the believer, death is never a tragedy: "For to me, to live is Christ and to die is gain . . . I desire to depart and be with Christ, which is better by far." (Philippians 1:21.) We know that shuttle commander Rick Husband and payload commander Mike Anderson are with the Lord Jesus and are supremely happy; we can entrust the rest of the crew into the hands of a God who is not only altogether just but altogether merciful. Our prayers should be with the families of those who have died.
Furthermore, Scripture affirms that history does have an ultimate purpose and that God directs all that happens for the ultimate good of those who love him.
"We know that all things work together for good to those who love God, to those who are the called according to his purpose. For whom he did foreknow, he also predestined to be conformed to the image of his Son, that he might be the firstborn among many brethren." (Romans 8:28, 29.)
"Because of his great love for us, God, who is rich in mercy, made us alive with Christ even when we were dead in transgressions — it is by grace you have been saved. And God raised us up with Christ and seated us with him in the heavenly realms in Christ Jesus, in order that in the coming ages he might show the incomparable riches of his grace, expressed in his kindness to us in Christ Jesus." (Ephesians 2:4-7.)
Bob Vincent
80 Hickory Hill Drive
Boyce, Louisiana 71409
On Cotile Lake.