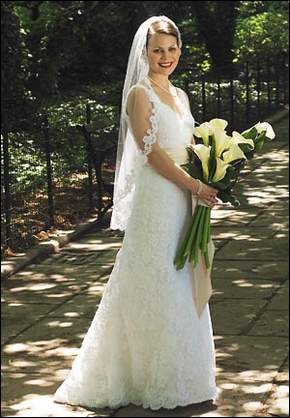 Amanda Martin of New York City and Robert Benn Vincent, Jr., of Baton Rouge were married Friday, May 27, at 11:00 a.m. in an intimate service of holy matrimony in the Conservatory North Garden, Central Park, New York. Robert Benn Vincent, Sr., father of the groom, officiated.

The bride is the daughter of Mr. and Mrs. Jonathan Ellis Martin of Alexandria. She is the granddaughter of Ellis Spencer Martin of Pineville and the late Virginia Slaughter Martin and of Vivian Whitehead Burnaman of Carthage, Texas, and the late Doyce Alvy Burnaman.

The bride is a graduate of Alexandria Senior High, of Blair School of Music at Vanderbilt University, and of University of Texas at Austin where she received a master's degree in opera. Prior to the wedding she lived in New York City where she taught music and studied vocal performance.

The groom is the son of the Reverend and Mrs. Robert Benn Vincent, Sr., and the grandson of the late William Wyman Vincent and the late Janet Benn Vincent of Myrtle Beach, South Carolina, and of Andrew W. Price of Jacksonville, Florida, and the late Margaret Ethel Price.

He is a graduate of Grace Christian School, of Tulane University, and of the Paul M. Hebert Law Center at Louisiana State University. Benn is an attorney with the law firm of Kean Miller in Baton Rouge.

Escorted by her father, the bride was given in marriage by her parents, Jonathan and Maggie Martin. She wore an Alençon lace gown with a rum-pink silk satin sash, set off by a lace-edged elbow-length veil. The bride carried a bouquet of white calla lilies.

The bride's attendant was her sister, Natalie Martin Monroe, of Alexandria.

The groom's attendant was his brother, Andrew Vincent, of Memphis, Tennessee.

A wedding reception was held at Tavern on the Green.

After their honeymoon trip to Ireland, the couple lives in Baton Rouge.