On October 10, 1988, Sandy was run over by a log truck. The log truck had dumped its load of wood and jacked up its eight-wheel, rear tandem axel.
Both the large log truck and the small Toyota truck in which my wife was the passenger entered the Calcasieu River Bridge near Hineston, Louisiana, at the same time, and the truck's rear tandem axel broke loose.
With the log truck in the other lane, and two guard rails on either side of this narrow, two-lane bridge, there was no where to go. The eight wheels rolled over the little Toyota, completely removing the roof and sides. The passenger's door caved in around my wife and kept her organs from being crushed. The photograph below shows two of the wheels resting in the back of the Toyota, behind my wife who is being stabilized by the ambulance crew.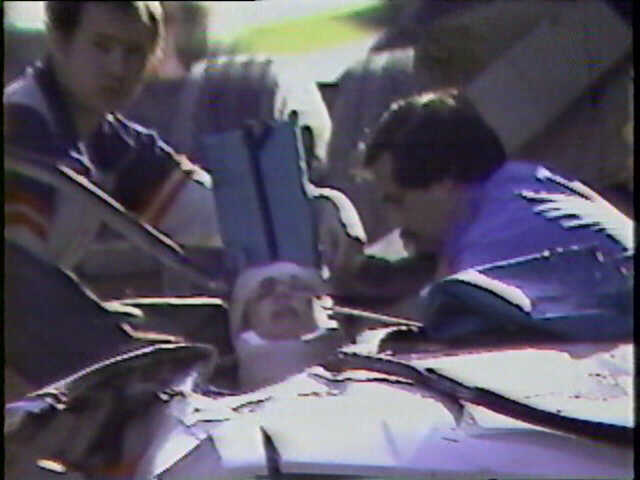 This is from the video broadcast of KALB-TV, Alexandria, Louisiana, on the 10:00 o'clock news, Monday evening, October 10, 1988.
Sandy went into a light coma, had her pelvis broken in several places and a nerve severed in her brain. During that time I had to tend to five children, from a senior in high school to a toddler, and my mother. It was a profoundly lonely time, and the emotional distance between Sandy and me began to grow. But one fruit of that distance was that we began daily to pray together — apart from private and family worship — holding hands and pouring out our hearts to God. It was the best thing that ever happened to our marriage, and it is something we still do.