Over thirty-five years ago I wrote a tract that was subsequently published by Crown and Covenant Publications, the publishing arm of the Reformed Presbyterian Church of North America.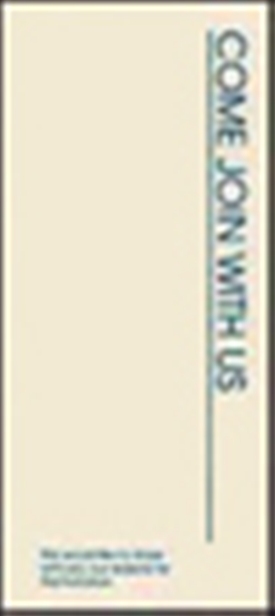 After all these years, I would still say the same things to you, but I would try to earn the right to be so bold by first establishing a relationship with you as a friend.
Over the decades that I have been a pastor, God has given me a ministry in counseling wounded people. I have found that it is only as we are assailed by the winds of change in the storms of life that we become open to radical solutions as over against temporary fixes that involve no real change or commitment on our part. After all these years, I am still convinced the most basic problem any of us has is that we have not faced ourselves -- our own selfishness and fears. We fail to do that because we are afraid of what we will find. It is only as we respond to Godís earnest invitation to come to him through Jesus Christ that we finally are able to look into our own hearts and accept ourselves, because he has already accepted us in the person of his Son.
If after reading this tract, you are left with questions, please contact me.
Come join with us
There are many reasons why we should like to become better acquainted with you, but the most basic one is that we want you to come to know the Lord Jesus Christ. Do you know Christ? In God's sight, if you are outside of Christ, you already stand guilty. There is no hope of pardon for you as you are. You have broken God's law, and deep in your heart you hate God. You do not merely break his law outwardly -- you break it in your heart. Jesus Christ said, That which comes out of the man, that defiles the man. For from within, out of the heart of men, proceed evil thoughts, adulteries, fornications, murders. . . (Mark 7:20-23) You may not have physically murdered anyone but you have hated someone, and that is murder in God's sight. The God before whom you stand will by no means clear the guilty. (Exodus 34:7)
God's Provision
God, however, has not left all men in this dire state. From before the foundation of the world God the Father set his love on a people. These people he wrote in the book of life. They are adopted as the children of God; they obtain the kingdom of God as their everlasting inheritance, being predestinated according to the purpose of him who works all things after the counsel of his own will. (Ephesians 1: 11) These people whom the Father has chosen he gave to his Son, Jesus Christ, who came into this world to die and rise again in their place. Jesus said, I am the good shepherd: the good shepherd gives his life for the sheep. (John 10:11) Thus he can faithfully promise: All that the Father gives me will come to me; and him who comes to me I will not cast out. (John 6:37) Through the death and resurrection of Christ, the Holy Spirit has come to give new birth to the people of God. (Titus 3:5,6) Unless you have undergone this second birth, this spiritual resurrection, you are spiritually dead. (Ephesians 2:1-10 and John 3:1-8)
Your Condition
If you have not been born again, God says you have a carnal mind. You hate God, because the carnal mind is hostile to God: for it is not subject to the law of God, neither indeed can be. So then they that are in the flesh cannot please God. (Romans 8:7-8) God offers you free salvation; he offers you full pardon; he sets before you the inheritance of the children of God. All of those precious promises mean nothing to you as long as you are outside of Christ. In spite of God's sincere offer of salvation in Christ, still you will not come to him that you might have life. The wicked, through the pride of his countenance, will not seek after God. (Psalm 10:4) Thus Christ says, No man can come to me, unless the Father who has sent me draws him. (John 6:44) You will not come to God as long as you inwardly hate him; and you will hate him until he changes your heart.
God's Saving Work
There are multitudes that have come to Christ, and they all confess, Not by works of righteousness which we have done, but according to his mercy he saved us. (Titus 3:5) Paul wrote to the Christians in Ephesus to remind them, For by grace are you saved through faith; and that not of yourselves; it is the gift of God; not of works lest any man should boast. (Ephesians 2:8, 9) Those who are saved do not imagine that their salvation is due to anything in themselves, for all our righteousnesses are as filthy rags. (Isaiah 64:6) Rather, God freely justifies believers, not by making them righteous inside, but by pardoning their sins and by accepting and accounting them as righteous for Christ's sake alone. If you have been accepted by God, it is not because of anything you have done nor even because of anything done in you, but because God has put Jesus Christ's righteousness to your account and laid your sins on him. For he has made him to be sin for us who knew no sin; that we might be made the righteousness of God in him. (2 Corinthians 5:21)
The Question
So then, do you stand in grace or in wrath? Does God's gracious favor rest on you? Of all the questions you have been asked in your life, this is the most important. To die outside of the circle of God's love and grace is to die under his everlasting wrath. There is no other fate awaiting unsaved men but the pit of hell. And whosoever was not found written in the book of life was cast into the lake of fire. (Revelation 20: 15) Do not flatter yourself; it is appointed unto men once to die, but after this the judgment. (Hebrews 9:27)
Your Assurance
True believers can come to have assurance of salvation. John writes, These things have I written to you that believe on the name of the Son of God, that you may know that you have eternal life. (1 John 5:13) Those who have been born again reflect this in a changed way of life THEY HAVE NOT BEEN SAVED BECAUSE THEY LIVE A NEW LIFE; THEY LIVE A NEW LIFE BECAUSE THEY HAVE BEEN SAVED. Do you love God? Do you love the people of God? Is your heart grieved when you sin? Do you know that you cannot save yourself, but that in Jesus Christ alone is full salvation? Do you hunger and thirst for righteousness? These things are to some extent present in every true Christian. If God the Holy Spirit bears witness of them in you, then you are a saint in God's sight -- sinner that you are and sinner that you will be all your earthly life -- because the Lord Jesus died for you. If these evidences of grace are not in you, cast yourself upon God's mercy in Jesus Christ. Come to me, all who labor and are heavy laden, and I will give you rest. (Matthew 11:28) We earnestly desire your union with Christ, even should you never come to join this particular congregation. You are very welcome at all of our services, and we hope that you will come and visit us. If we can be of any help to you in finding answers from that one, infallible source of truth Ė the Bible, please call on us at any time.
Order from: Crown and Covenant Publications, 800 Wood St., Pittsburgh, Pa. 15221
If I can be of any help to you in finding peace and forgiveness with God, please contact me.
God bless you,